Most people who love dive watches will never descend to the depths they are built to withstand. They tend to be an over-engineered tool – one that can save your life – if you ever use it. Regardless of whether you're a desk diver or a bonafide underwater explorer, Voyage presents five timepieces launched in 2022 that will ensure sartorial flair and survival in style.
The oceans are the largest habitat on our planet. And yet, we know more about space than we do about what is below more than two-thirds of our planet's surface. More people have left Earth for the moon than have descended to the bottom of the sea. And yet, the seas and what lies beneath them remain an eternal and beguiling source of fascination for humanity. In spite of the appalling denigration humans have caused, the oceans are integral to human spirit and survival.
We've been looking down there for quite a while as well! A 9 000-year-old pearl discovered in a Neolithic tomb in East Asia is proof of that. In the present, the tools that enable us to safely the plumb the depths have become, well… too good. It's not uncommon today to see someone who has never been diving, nor intends to go any time soon, wearing a dive watch that can reach depths of between 200-300 metres. Some dive watches can even function at 6 096 metres, below the surface of the sea.
What constitutes the intense desirability of dive watches? There are several factors at play. There are the strong links, both historically and aesthetically, with military use, for which there is always an appeal. As they are usually over-engineered, dive watches are formidably robust for everyday wear on dry land. And, since legibility can be a matter of life and death, dive watches have well-designed dials. Plus, if a dive watch is good enough for James Bond, who's worn both an Omega Seamaster and a Rolex Submariner, then… you get the point. Here are five of the best from 2022.
Rolex Deepsea
Rolex is synonymous with dive watches thanks to a remarkable history of pushing the boundaries of timekeeping under water. In 1926, Rolex created the first waterproof and dustproof wristwatch and christened it "Oyster." The watch featured a hermetically sealed case which provided optimal protection for the movement. This was famously put to the test in 1927, when Mercedes Gleitze attempted to swim the English Channel wearing a water-resistant Rolex. Whilst she was forced to stop after 15-hours, the Rolex lived up to the challenge and won great acclaim.
Today, Rolex manufactures four different dive watch models: The Submariner and Submariner Date, the Sea-Dweller and the Deepsea – in order from lowest to highest in both size and price. Launched this year, the 44mm Deepsea Oyster, in Oystersteel, is a remarkable watch. It's bold black dial and large luminescent hour markers contrast with monochromatic elegance with the case and bracelet. Waterproof to a depth of 3 900 metres and featuring a unidirectional 60-minute rotatable bezel, the Rolex Deepsea is one of the ultraresistant divers' watches engineered by Rolex for deep-sea exploration.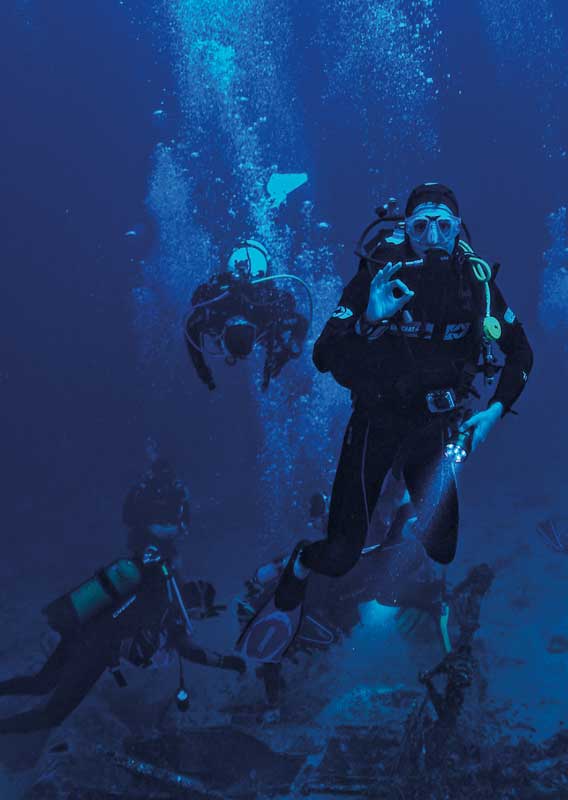 The case back, edged with fine fluting, is hermetically screwed down with a special tool that allows only Rolex watchmakers to access the movement, and the case is reinforced with the patented Ringlock System, designed to provide the highest degree of resistance and reliability, whilst achieving a size that remains wearable and practical.
Protected at the heart is the calibre 3235 – a new-generation self-winding mechanical movement entirely developed and manufactured by Rolex. With 14 patents, it boasts the very best in precision, power reserve, shock and magnetic field resistance as well as incorporating the new Chronergy escapement, which combines high energy efficiency with great dependability.
Price/availability: €13 200. New Rolex watches are exclusively sold by Official Rolex Retailers, who independently manage the sales of watches to customers and can provide information on availability.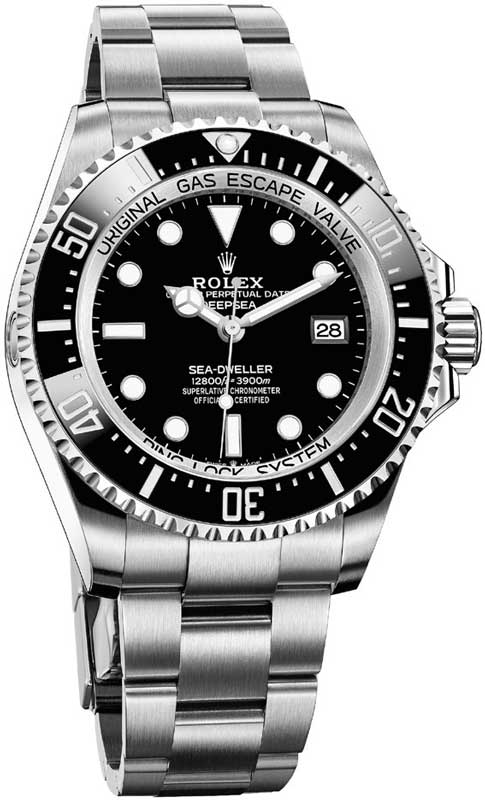 Submersible QuarantaQuattro ESteel™ Blu Profondo
No dive watch selection should be without a Panerai – creator of the world's first glowing dive watches. When Guido and Giuseppe Panerai, were approached by Italy's Regia Marina, or Royal Navy (1861- 1946) to manufacture precision pocket watches and chronographs, it was the beginning of a journey which carries on to this day. By the beginning of World War I, Panerai was making cutting edge instruments for the Italian Navy. With the breakthrough of using Radiomir on its watch dials, a luminous radioactive substance that glowed in the dark, Panerai was able to outshine its rivals.
During the War, the Royal Italian Navy launched missions where divers actually rode on seven-metre-long submersible torpedoes, steering them to the target before swimming away from the blast.
These divers relied on Panerai's precision underwater instruments – and Panerai sealed its place in the iconography of watchmaking. The brand maintains its passion for the sea and with the Submersible Quarantaquattro eSteel™ Blu Profondo, Panerai embrace the critical importance of sustainability goals, making 72g of the watch from recycled materials, corresponding to 52% of the total weight of the timepiece.
The striking dial catches the eye with its a dark blue polished gradient, which sits perfectly with the blue ceramic bezel, and blue recycled PET strap. It is water-resistant up to 300 metres, with the patented crownprotecting device that is inextricably linked to the Panerai seafaring history.
The 44mm case, caseback, safety lock crown protection device and the ceramic anti-clockwise rotating bezel with graduated scale are all made of eSteel. Two straps and a tool for changing them are included with the watch, both in the same colour as their companion dial: the first strap is composed of fabric made of recycled PET, while the second strap is made from recycled rubber.
Price/availability: €10 800 – available exclusively through Panerai boutiques and at Panerai.com.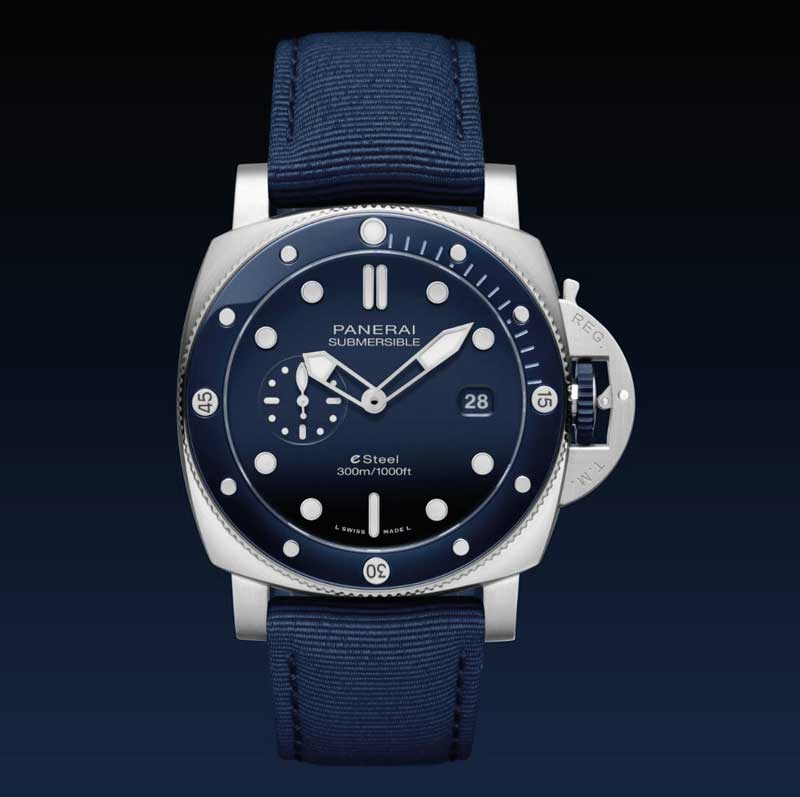 Doxa army watches of Switzerland edition
Doxa, which means "glory" in Greek, is a revered name in the global diving community, and the brand – while not a household brand name like the others here, is nevertheless a pioneer in diving watches, and has notably contributed to the safety of divers thanks to the many technical details they introduced, including the unidirectional bezel, the decompression scale and the helium escape valve.
Doxa watches have been relied upon by generations of divers, including legends such as on the wrists of many professional divers, including Captain Jacques-Yves Cousteau, co-inventor of the Aqua-Lung breathing apparatus and godfather of modern scuba diving.
Back in 1969, Doxa launched the SUB 300T Conquistador, the first general public diver's watch equipped with a helium release valve. That same year the brand collaborated with Swiss Army to enhance the specifications of the SUB 300T, designing it with a matte black case, 60-minute black insert on the diving bezel, and a sand-beige dial that eliminates glare and guarantees excellent readability in low visibility conditions. The watch became one of the icons in Doxa's history – highly collectable for dive watch aficionados.
In 2022, this cult classic is back, with a few crucial upgrades. The matte black case with antiglare properties, the instantly recognisable dial design for military purposes remain, but now the case is in matte black ceramic, offering more resilience and better protection against scratches. The case is 42.5mm in diameter and the ceramic case is combined with multiple titanium parts, used for the screw-down crown and the screwed caseback, both of which are coated in black PVD.
This limited edition is a faithful recreation with retro charm alongside its performance appeal. The hands are in Doxa's signature orange and the seconds hand features an arrow-shaped tip, all coated with Super- LumiNova. Water resistant to 300 metres, the redoubtable Sellita SW 200-1 automatic movement is COSC-certified and includes a hacking seconds that befits a tool watch.
Presented as standard on a comfortable black FKM rubber strap with a grained texture with a folding clasp with black PVD coating, it also features an adjustable wetsuit extension. Inside the special packaging is an additional fabric NATO strap. Both display the original camouflage pattern used by the Swiss Army at the time of first issue.
Price/availability: €4 200 – released in a limited edition of 100 pieces. Available from Watches of Switzerland retail outlets and on the Watches of Switzerland and Doxa Watches e-commerce platforms.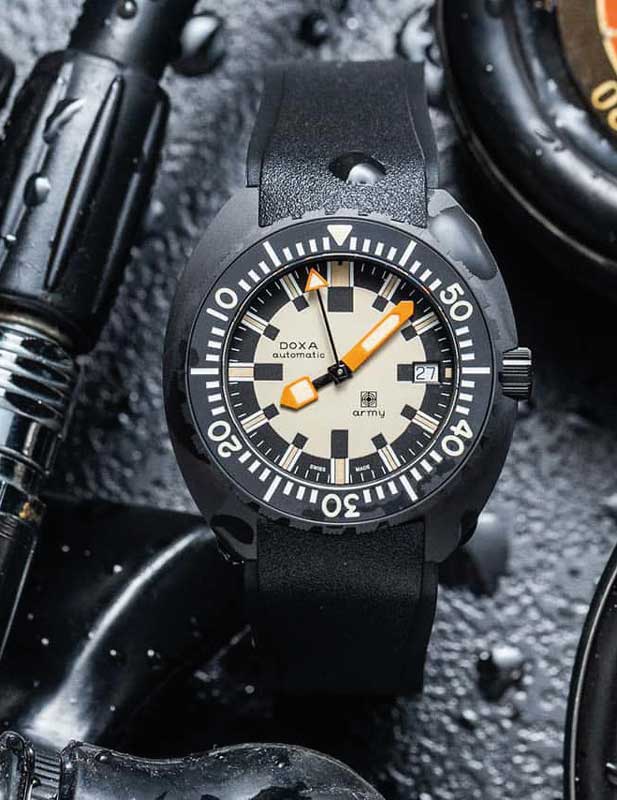 Omega seamaster planet ocean 6000m coaxial master chronometer 45.5 mm
One of the first real dover's watches was the Omega Marine, which was launched in 1932, and featured a sapphire crystal and a Stülp-Gehäuse, whose purpose was to make the watch durable and resistant to external influences. The developers surprised themselves when the achieved a simulated depth of 135 metres with the watch, which in the 1930 was outstanding. By 1948, Omega introduced the first Seamaster models, and an ongoing icon was born.
Now the Seamaster line is enhanced the incredible Ultra Deep collection. The name is not lightly given… these watches really are capable of enduring at the very deepest. The explorer Victor Vescovo successfully piloted his deep submergence vehicle to a World Record depth of 10 935 meters in the Mariana Trench in 2019, and two Ultra Deep watches were attached to the outside of the submersible – after the 12-hour dive, both were completely unscathed.
After reaching the deepest place on Earth in 2019, the ground-breaking Ultra Deep watch has been repurposed into a new 45.5mm collection available to the public. Tested in real ocean conditions, this remarkable divers' range is water-resistant to a massive 6 000 metres.
Constructed in Omega's own proprietary O-MEGASTEEL, the watch is eye catching with its polished orange ceramic bezel with its diving scale in liquid ceramic and Super- LumiNova. Underneath the domed sapphire crystal, the lacquered gradient dial subtly transitions from grey to black, and has been given four Arabic numerals in orange, as well as 18K white gold hands and hour markers, all coated with white Super-LumiNova.
The watch is powered by the Co-Axial Master Chronometer Calibre 8912 and it is mounted on either a nato strap or an O-MEGASTEEL bracelet with patented extendable foldover rack-and-pusher with complementary length adjustment and extra diver extension.
Price/availability: Rubber strap €11 650, OMEGASTEEL. Bracelet €11 985. Available soon in stores with option to subscribe to a waiting list.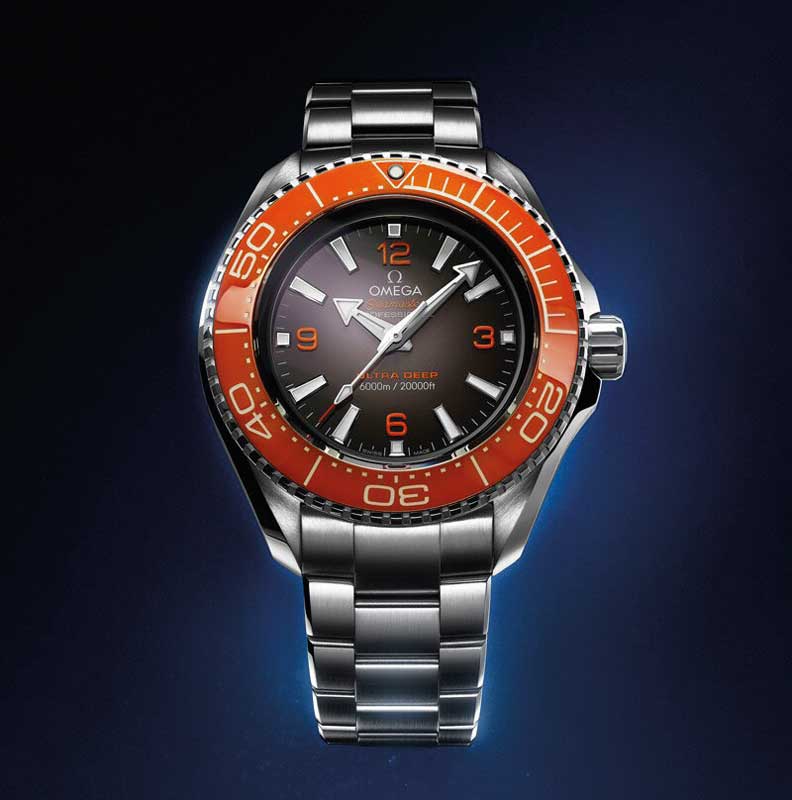 Seiko Prospex heritage turtle 1968 re-interpretation
Seiko of Japan has a colourful history in pioneering dive watches for pro-divers and since launching Japan's first diver's watch in 1965, Seiko's innovative watchmaking has influenced global dive watch standards.
Seiko boast the first use of a titanium watch case, followed by the first ceramic watch cases and these materials plus other smart innovations have enabled Seiko's timepieces to perform in over 1000 metres of water.
Seiko loves to reinterpret its expansive archive or timepieces, and this watch is a welcome launch for Seiko fans, who affectionately refer to its shape as "the turtle" – that symbol of good fortune for divers. This design is a contemporary reimagining of the original 1968 Turtle – arguably Seiko's most famous diving watch – featuring a reinforced silicone strap with a rail pattern taken from the design of the original Turtle, while the date window's position gives legibility without interfering with the indexes.
Prospex is a combination of the words 'Professional' and 'Specifications' and Seiko Prospex timepieces are designed to be practical, reliable and durable; to meet the high standards required in extreme environments for sports lovers and adventure seekers alike.
The new turtle's dial evokes classic diving watches and there are three colour options available – white dial with silver markers and hands, black dial with silver accents, and a black dial version with gold accents, including on the scale on the aluminium insert bezel. The Seiko 6R35 is the reliable and sturdy movement, with respectable accuracy and a 70-hour power reserve. It looks equally cool on a black silicone strap with pin buckle or a stainless-steel bracelet with three-fold clasp and secure lock.
Price/availability: Strap version €938 and bracelet versions €1 145, available in July 2022.