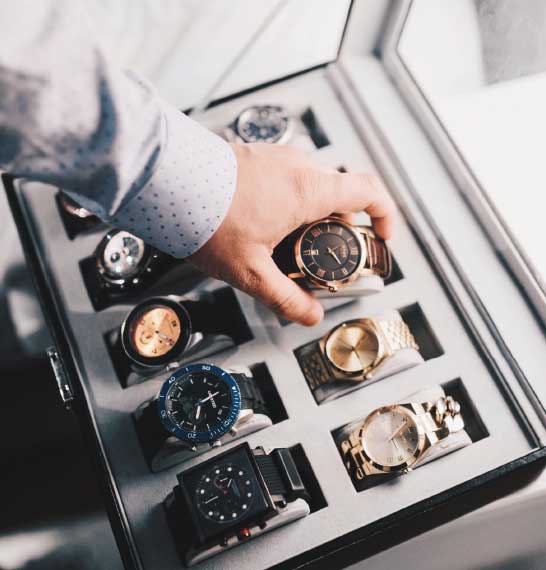 investing in a luxury watch offers enjoyment and financial gain. outperforming real estate, stocks, and gold, investment in the right luxury watch can be a wise lifetime decision. voyage presents a selection of safe bets.
Watch buyers can be a capricious bunch. given to sudden bouts of fancy surrounding the next timepiece they have to have. as the luxury watchmaking industry conjures up new creations every year, so the watch collector is by turns impressed, influenced, and enticed.
As springtime arrives, and with it the biggest watchmaking event ever to take place in Geneva – Watches and Wonders from March 27-April 2 – there will soon be a collective unveiling of the latest highly desirable timepieces from 48 of the most prestigious watchmaking Maisons.
The new "thing" this year could include some elaborate innovations in watch movement microengineering, or it could simply be that a specific colour is all the rage for 2023. Maybe there's going to be a rush for rust-coloured cases or yellow bezels? Time will tell.
One thing that's certain is the habits of watch buyers has changed. Gone are the days when people would exclusively buy luxury timepieces to wear and enjoy. Nowadays, a notable faction of the market buy luxury watches as investment pieces. Sure, they wear and enjoy them first, but the watch must be likely to increase in value over time, should the buyer wish to part with it for a healthy profit at a later date.
The watch market is constantly evolving and certain models may be more sought after at different times. Therefore, it is essential for any potential investor to conduct thorough research and be aware of the factors that contribute to a watch's value. If not buying brand new, choose a watch that is in excellent condition, with all original parts, and complete with box and papers. With the right approach and due diligence, a wellselected timepiece can serve as a valuable addition to any investment portfolio.
There is an elite group of manufacturers that stand out. These powerful international brands have solid reputations established over a century or more. They assure exceptional craftsmanship, durability, and prestige – making them valuable assets for any collector. Here we explore the top 5 watches that are best for long-term investment.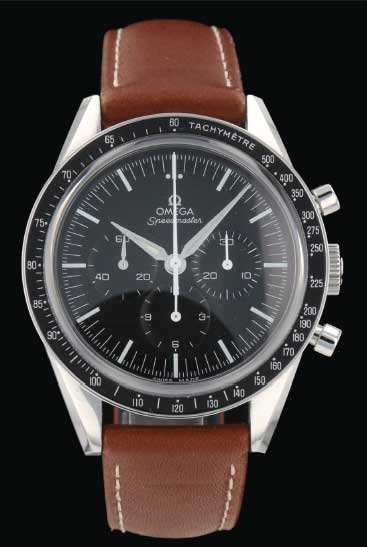 Omega Speedmaster professional
The Omega story started in 1848 when Louis Brandt founded a factory to assemble watches in La Chaux-de-Fonds. In a little over 50 years, the brand was producing some 100 000 watches a year, and was one of the largest watch manufacturers in the world.
Named after the twenty-fourth and last letter of the Greek alphabet, "omega" signifies the crowning of an expertise. And whether mechanical or quartz, using analogue or digital displays, Omega movements have won countless prizes for their chronometric precision.
By 1932, Omega was appointed official timekeeper for the Los Angeles Olympic Games, a role it performed regularly until becoming the exclusive timekeeper for the Olympics in 2009.
Alongside the connection with sports, Omega also has a dynamic association with style and performance through being worn by James Bond. However, Omega is arguably best known for its relationship with the inky firmament above us all – space!
Omega is the only watch brand to have been worn on the Moon. On July 21st 1969, Buzz Aldrin stepped onto the lunar surface wearing his Speedmaster Professional and ever since this historic moment, Omega has been part of space exploration. The Omega Speedmaster Professional is a true icon in the world of watchmaking and as such, any iteration in that line is a sensible investment piece. Simply put, the Speedmaster is Omega's most legendary timepiece.
As a general rule, buy full stainless steel watches. Some gold, or half gold, or titanium watches can be good investments, but the larger market will always lean towards stainless steel. We recommend the Omega Speedmaster First Omega In Space Ref. 311.32.40.30.01.001, or the Omega FOIS.
The watch, first introduced at Baselworld 2012, was part of the Speedmaster Heritage Models line with a list price of $5 300. Since Omega discontinued the watch in 2020, there is now a healthy increased demand for the Speedmaster FOIS. The numbered (but not limited) edition was based on the Speedmaster ref. CK2998 worn by NASA astronaut Walter "Wally" Schirra on October 3rd, 1962 during the Sigma 7 flight. (Wally Schirra's gold Speedmaster BA145.022-69 sold for $1.9 million in 2022).
The watch is a modern version of the classic Speedmaster with a 39.7-mm stainless steel case and straight lugs, making it notably smaller than the 42-mm Moonwatch. Omega used hands from different versions of the CK2998 and the watch is currently in high demand. Prices start around $5 000 and go up to $9 000 and beyond… and we can expect these prices to further ascend!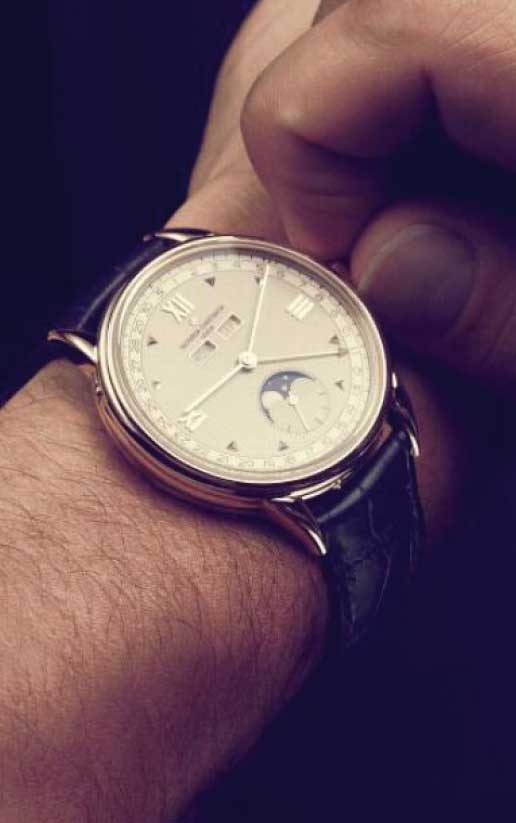 Vacheron Constantin patrimony
We've saved the elder stateman until last. Vacheron Constantin is the oldest continuously operational watchmaker, with more than 267 years of creating some of the finest timepieces ever worn. And worn they have been by kings, presidents, and countless connoisseurs of high watchmaking.
Established in 1755, Vacheron Constantin famously make relatively few watches compared to their peers. Indeed, one of the brand's mottos is, "One of not many". Any Vacheron Constantin watch will epitomise a striving for perfection, but the Patrimony collection is a quintessential representation of haute horlogerie, renowned for its refinery and meticulous craftsmanship. Its timeless design, evocative of the brand's rich heritage, is testament to the commitment to quality and attention to detail. Its sophisticated aesthetic and superior construction make it a coveted possession for collectors.
The name of the collection is particularly apt as it stems from the Latin word patrimonium and means "an inheritance from one's father". Here the notion of inheritance, and with it the idea of investment in the future, comes to the fore.
An investment in a Vacheron Constantin timepiece may not generate the drastic value increases of the other members of the "Holy Trinity" of watch brands, otherwise known as the "Big Three" of Audemars Piguet, Patek Philippe, and Vacheron Constantin – but a Vacheron Constantin watch from the Patrimony collection, or another line, is certain to be a safe bet.
According to a report by the Luxury Investment Index, Vacheron Constantin watches have demonstrated consistent growth in value, with an average appreciation rate of 4% per annum over the past decade, making it a shrewd long-term investment.
In the brand's own words, "The Patrimony collection reinterprets the unparalleled heritage of Vacheron Constantin in an understated, contemporary way. Born out of the effervescence of the 1950s, today it is the symbol of renewal – an ode to the essential."
Whilst everything the Maison creates is a contribution to horological patrimony, the Patrimony collection is an elevated expression of restrained and minimalist watchmaking. Simple geometry and efficiency of form reigns supreme – notice the stick-shaped hour and minute hands, instead of dauphine, Breguet or feuille designs. One glance at the Patrimony Automatic, a 40mm 18k rose gold watch devoid of complications, and you can be assured that you're viewing a pure distillation of what a high-end watch should be.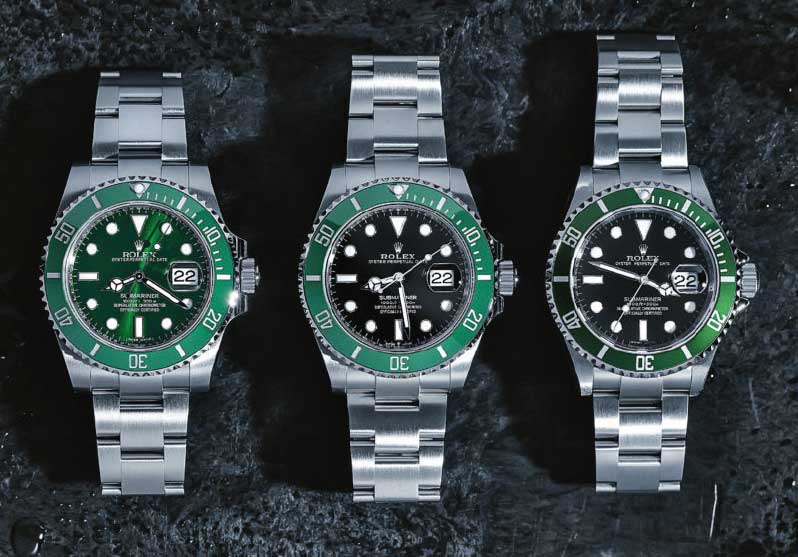 Rolex Submariner
No surprises with our number one recommendation here. Rolex is an iconic brand that could effectively serve as currency almost anywhere in the world. Rolex watches are renowned for appreciating their value, sometimes dramatically, and since the 1950s, the average price of a new Rolex watch has been reliably increasing.
There is no sign of this changing and people are willing to pay more for a Rolex watch every year. This doesn't mean that any Rolex you buy will necessarily appreciate in value and certain watches have a better chance of rising in value than others.
Consider the relative scarcity of some of the most sought-after and exclusive items boosting sale price, and look into the annual price increases the company undertakes. A strategy that Rolex undertakes to protect the continued value of its watches is to institute an annual price increase. This allows the company to shift to increased market demand and provide value to their current customers.
One of the strongest indicators of the potential of a Rolex watch to increase in value is how rare it is. Scarcity is closely linked with value, and this is evidenced again and again at major watch auctions. When something is in short supply, buyers will pay more.
Rare and hard-to-find watches always attract the highest bids. This point is illustrated by a brief look at the top three most expensive Rolex watches ever sold – the Paul Newman Rolex Cosmograph Daytona, the Unicorn Daytona Reference, and the Bao Dai reference.
In 2017, Paul Newman's personal Rolex Cosmograph Daytona sold for an incredible $17.8m at Phillips in New York, making it the most expensive watch ever sold. The second most expensive sold for $5.9m— a Daytona Reference 6265 'Unicorn' in white gold. Here again the scarcity principle applies. Vintage Daytona watches were made in either steel or 18 carat yellow gold. The white gold reference 6265 is the only known example of its kind in the world. Finally, the 1954 Bao Dai reference 6062 was commissioned by Bao Dai, the last Emperor of Vietnam. He requested the most precious ever made and received the Rolex reference 6062 in yellow gold, with a black dial and diamond indexes. It was also auctioned in 2017 for over $5m.
There are many types of Rolex to consider for investment – vintage Daytonas are always in demand, there is a relative shortage of Milgauss watches in circulation due to the model being discontinued in 1988 for nearly two decades, and steel Rolex sports watches reliably appreciate in value, such as the GMT-Master II with its famous two-coloured bezel.
However, our suggestion is the redoubtable Rolex Submariner. This classic dive watch is heralded for its rugged durability and instantly recognisable design. With due care, a Submariner's value increases over time and according to a study conducted by Luxury Watch Index, the Submariner has had an average annual appreciation of 5.2% over the past decade. The "Hulk" Submariner with its green bezel has proven particularly desirable of late, but really any well selected Submariner will be a wise long-term investment.
Patek Philippe Nautilus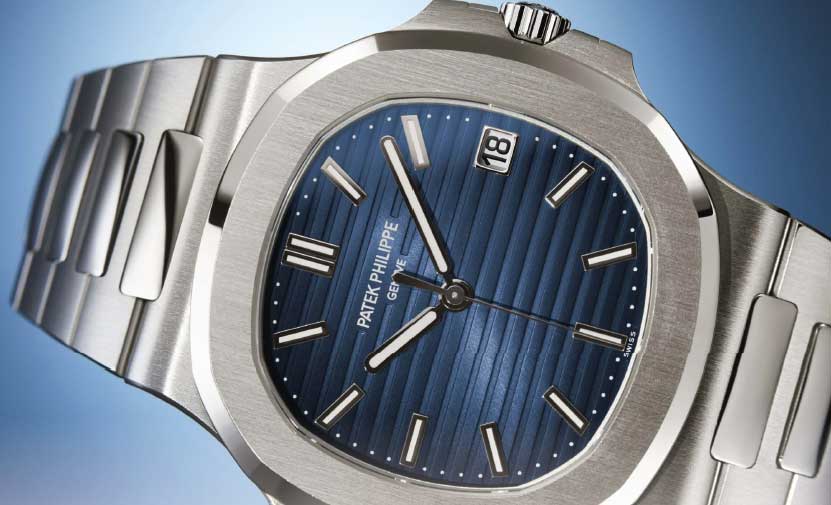 One of the last family-owned Genevan luxury watch brands, Patek Philippe has created some of the most beautiful and complex watches in the world, registering more than 70 patents for its pioneering innovations and designs.
Established in in the Swiss capital in 1839, the brand swiftly earned a reputation for creating watches that were technically excellent and irrefutably elegant. Whilst there are many exceptional models in the full family of timepieces, for investment purposes we recommend the classic Patek Philippe Nautilus – widely considered to be one of the most iconic luxury sports watches of all time.
Its incomparable design and superior craftsmanship, coupled with its timeless aesthetic, have made it a favourite among collectors and enthusiasts alike. According to a report by the Knight Frank Luxury Investment Index, Patek Philippe watches have seen an average increase in value of around 5% per year over the past decade.
Legend has it that the visionary Swiss watch designer and artist Gérald Genta, the "Picasso of Watches," sketched its original design on a napkin whilst dining with some Patek execs. And now, almost 50 years on, the Nautilus is still one of the most popular Patek Philippe watches.
OK so, the Nautilus is a safe bet but which reference? Well, the Nautilus Travel Time 5990/1A-001 has to be included as it was one of the fi rst to bring chronograph functions to the wristwatch. It can also display two time-zones simultaneously. The 5990/1A-001 debuted in 2014 and has been in high demand ever since. Patek Philippe stayed true to the original design from the '70s, making just a handful of understated modifi cations, including a slight rounding of the hinges framing the dial, a three-part case, and a marginally increased profi le. The model features the signature Nautilus pattern and other design elements, such as the counterweight used by both lancet-shaped chronograph hands, which are part of the same complication.
The Patek Philippe nautilus 5711/1a blue dial is a guaranteed great investment. making its debut in 2011, the nautilus 5711/1a is one of the most sought-after steel sports watches in the world.
The Nautilus 5890 is another exceptional piece with some crucial di  erences from the original. First off, we have the chronograph function. Distinguishing itself from most other manufacturers who use three sub-dials to allow reading of both actual time and stopwatch elapsed time, the Nautilus 5890 takes a minimalistic approach with a solitary sub-dial above 6 o'clock.
This sub-dial is also a co-axial chrono counter that allows the wearer to keep track of minutes and hours without the need for any additional sub-dials. This also allows the watch to maintain the cleaner and more symmetrical look that we've come to identify with the original Nautilus.
Finally, the Patek Philippe Nautilus 5711/1A Blue Dial is a guaranteed great investment. Making its debut in 2011, the Nautilus 5711/1A is one of the most sought-after steel sports watches in the world and its value has shot up since Patek Philippe discontinued the model in 2021, instantly increasing its value among collectors.
One of Patek Philippe's most popular watches of this century, it could even become the most sought-after Patek Philippe timepiece in history. There is already a waiting list of up to ten years for the 5711/A and since Patek is not making the blue dial version any more, there is great investment value if you can get hold of one.
Audemars Piguet Royal Oak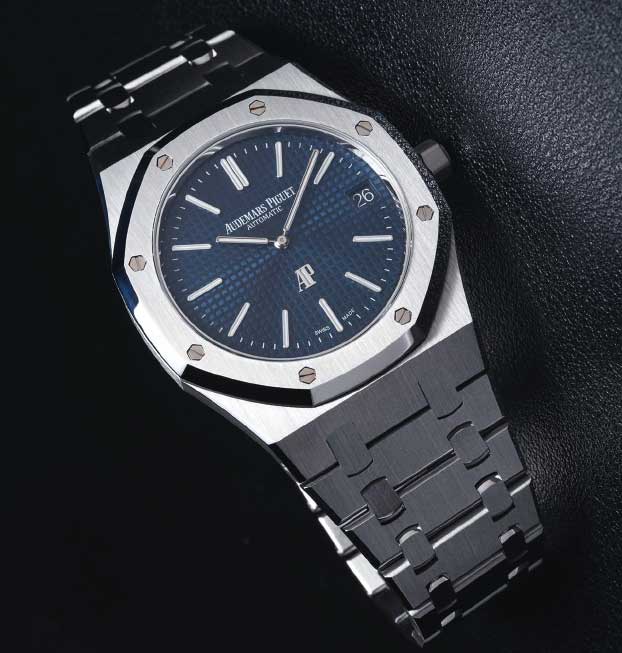 Visionary watchmaker and designer, Gérald Genta left a legacy of iconic designs. He's already been noted in this list as the creator of the Patek Philippe Nautilus, and he also gave us the Omega Constellation, the IWC Ingenieur, and the one and only Audemars Piguet Royal Oak – the watch that effectively gave birth to the hottest watch category in modern times – the luxury sports watch.
I had to come up with all that in one night! it was a crazy thing, personally i don't know by what magic it was possible to create such a thing in one night, it was quite amazing!
Genta first had the first idea in 1970 and the official launch of this icon was on April 15, 1972. The story goes that Georges Golay, the Managing Director of AP, called Genta on the evening of 10 April 1970 and said, "Mr. Genta, we have a distribution company that has asked us for a steel sports watch that has never been done before – and I need the design sketch for tomorrow morning."
Genta began immediately… he explained "I designed the integrated bracelet which was unprecedented, with tapering intermediate links that made it extremely hard to produce; the dial with hands and hour-markers delicately inlaid with luminous material; the sunburst cobalt blue dial base adorned with Clous de Paris guilloché pattern, complete with a smoky effect as the shade would otherwise have been slightly commonplace. All that was already laid out on the first sketch. The octagonal shape was obviously due to the fitting of the eight screws, because I had to find the space in the bezel to place them all. I had to come up with all that in one night! It was a crazy thing, personally I don't know by what magic it was possible to create such a thing in one night, it was quite amazing!"
It's crucial to consider here that the proposal of a steel watch positioned at the same price point as a gold watch – especially as the market for steel sports watches was already saturated with successful models such as the Omega Seamaster, the Tag Heuer Monaco, the Jaeger-LeCoultre Polaris and the Rolex Oyster – seemed ludicrous. This was a true example of being disruptive!
And so, the robust trailblazer, with its waterresistance, ultra-thin case, haute horlogerie movement, elegant textured dial, integrated bracelet, and cutting edge design, made its indelible mark with the Royal Oak 5402ST A-Series.
Last year was the Royal Oak's 50th anniversary and there are hundreds of models spanning the five decades, involving various metals, complications, and limited editions. So, which is a good model to invest in?
We propose the Audemars Piguet Royal Oak Jumbo Ref. 16202.
It is pure Royal Oak, with the Bleu Nuit tapisserie dial, baignoire markers and hands and an eight-sided bezel with screws. This new Royal Oak "Jumbo" replaces the 15202, the classic Jumbo since 2000. The 16202 features a new movement, the calibre 7121, replacing the 2121, which had been used in the Jumbo since it was launched in 1972. Both are ultra-thin, but the 7121 is equipped with design changes, including a repositioning of the logo from 12 o'clock to 6 and a new double-hash index at 12. Otherwise, it is the classic design that collectors know and love. There are four references: steel ($33,200), pink gold and yellow gold (both $70 500) and platinum (price upon request). The steel model is selling in the $150 000 plus range on the pre-owned market!